Scheduled Cleaning & Maintenance
Roof Maintenance Overview
Referred Roof Cleaning is not only interested in cleaning your roof, we are also interested in maintaining it. Our maintenance program is designed to give you the peace of mind that your entire roofing system and gutters will stay in excellent condition extending the life expectancy.
By being a routine client, you can be assured that leaks will be caught before they occur, your gutter draining system will not clog and your roof will not have moss growth return. Our maintenance program does not have a contract, we simply check in with you every 6, 12, 18, or 24 months depending on your wants/needs. We do not have contracts because we trust you will continue to use our services if you are truly satisfied with our work. Here is a list of everything that is included in your roof maintenance program:
A general roof inspection will be conducted to insure any potential leak issues are caught and properly addressed. Here are some of the things we check for:
a. Cracked or worn rubber boots around vent pipes
b. Cracked caulking or loose nails on flashing & vent caps
c. Shingle Deterioration e.g: buckling, curling, blistering, or bare areas missing significant amount of granules.
d. Broken or missing tiles
e. Skylight sealant and flashing
Roof debris will be cleared off (twigs, leaves, pine needles, etc…)
Roof will be treated thoroughly with a moss inhibitor approved by the Department of Agriculture.
Skylights, solar panels and sun tubes will be cleaned
Gutter Cleaning
Loose gutter nails will be nailed back in and gutter sealant is re-applied where needed.
Downspout Clearing
Downspouts when plugged underground may need a roto-rooter, however, we will clear if possible. Crack caulking removed and replaced where needed.
Missing fastener nails replaced and caulked over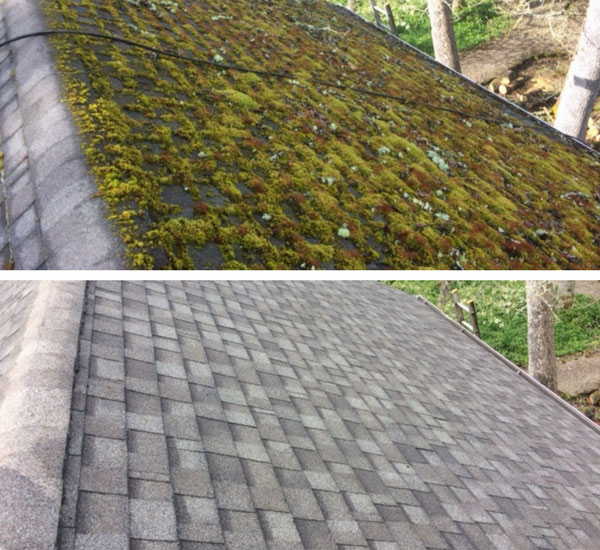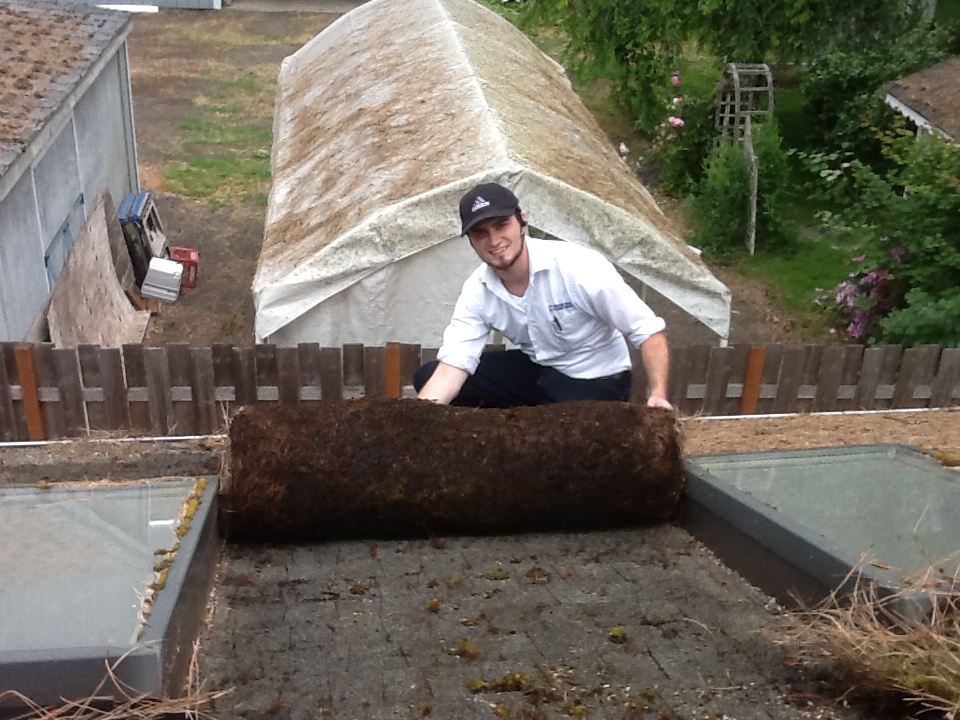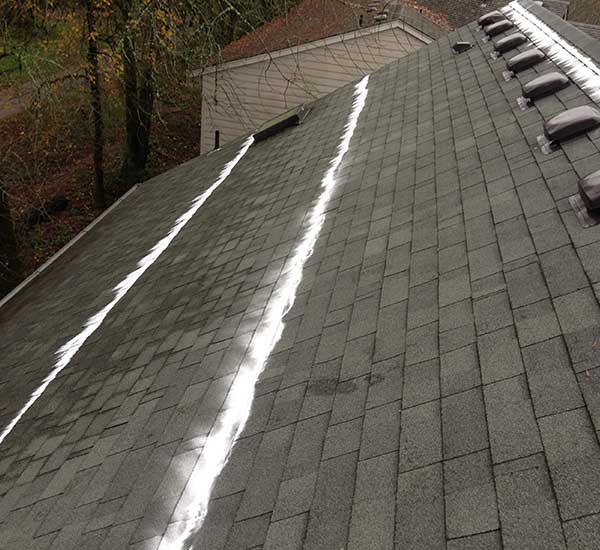 HERE'S WHAT OUR RECENT CUSTOMERS HAVE TO SAY ABOUT US
---
Review by Ron N. in May, 2018
I met Jaffet at the Salem Home show, he came out with a fare estimate, so I hired his company. He did an excellent job, started on time and finished in the expected time. May hire him for some roof cleaning in the fall.
Review by Lori M. in April, 2018
Referred Roof Cleaning owner and crew are very diligent and competent. Cleaned and treated a very steep roof, gave a detailed description of the work performed and provided before and after pictures.
Review by Robert L. in December, 2017
Very responsive start to finish, even during the busy season. Highly recommend hiring. Answers questions in a timely manner, very professional.
Review by Rick A. in December, 2017
Professionally done, they showed respect and care not only for our roof, but the surrounding property and landscape. They did not break a single tile on a 25 year old roof. We have contracted with them for our future roof care needs .
Review by Tahir G. in October, 2017
Excellent service experience with Jaffet. Found them to be responsible, trustworthy, professional and very reasonably priced while maintaining high quality. Given my positive experience, I would strongly recommend them to others without any hesitation.
Review by Denise Y. in September, 2017
Very happy with the work done and the cleanup. Showed up when scheduled and reasonably priced. Very professional.
Review by Kelly B. in August, 2017
Direct communication with the owner was very reassuring! Prompt replies and they showed up! Roof looks great, and the price was very reasonable.
Review by Kim W. in August, 2017
Jaffet is very professional. He went around the house and we decided what should be done. He has a lot of experience preparing a house to go on the market and was able to give me ideas of what should be done to increase "curb appeal" When I saw the work they had done I was amazed. Couldn't believe how great everything looked. They told me they'd come back and work on anything that they had missed. They hadn't. The work was excellent and at very reasonable price. I highly recommend them.
Review by John S. in August, 2017
We thank Jaffet and his partner for an excellent job and the reasonable price. We recommend them to anybody, who needs their services, because we're going to keep doing business with them for years to come!!!
Review by Ruthy Kanagy on August, 7th, 2017
James came on time and did a great job cleaning the roof and gutters and installing "gutter stuffers." Also repaired some flashing. Good communication, very professional. Expectations were met!