Your Trusted Roof Cleaning Partner
Corvallis's Best Exterior Home Cleaning Service
---
HIGH QUALITY, FAIR PRICE, HAPPY CUSTOMERS
Over several years I routinely asked my customers through surveys and customer reviews what they wanted most out of their contractor. I did this because I truly want to own and operate the best roof cleaning company in the area. What I heard from my customers wasn't surprising; in fact, it's exactly what I look for when I need work done on my own home. The top 3 things that our clients wanted most were:
1.) To be commitment to performing a high quality job
2.) To be fair in our pricing
3.) To be happy with our services i.e. provide a high level of customer service.
In honor to these 3 simple principles, we at Referred Roof Cleaning believe in following the Platinum Rule "Treat others the way they want to be treated" and so, our mission can be summarized in our motto: "High Quality, Fair Price, Happy Customers"
We Are Ready To Serve You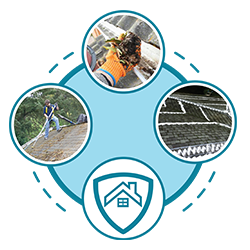 Yearly Maintenance
Program